The First Crucial Step:
Before we start, I want to share with you a book that changed my life. It's called the Twelve Pillars by Jim Rohn.
.
These Pillars are fundamental pieces of life's puzzle that will help you in your personal and business life. I encourage you to read the book and write down or copy each Pillar somewhere you can remember it.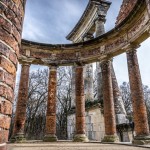 .
Pillar #1:
Personal Development:
.
Jim Rohn had a phrase he used to always say:
.
"Work harder on yourself then on your job."
.
He would say if you want to make more money, become more valuable to the marketplace by studying and taking the classes to improve yourself.
.
Now lets dig in...
.
How to Get Your 1000 hits week consistently each week,
Why that Matters
&
Different Ways to Accomplish this and Some Ways that Are NOT Worth Your Time:
.
.
Part One
.
 How to get your 1000 hits consistently each week: 
.
.
Why does this matter? Answer: 1000 hits is enough hits to begin noticing what your ratio of hits to subscribers is. Anything less than 1000 is not enough hits to be able to come to any conclusion. 
.
We want to help you get your 1000 hits every week.
That is why we are now asking you this question: 
If we can show you how to spend 

10

 minutes a day advertising and get your 1000 hits would you want to know how? 
Just with Europeansafelist upgraded version alone, you can get your 1000 hits each week. *There is a one drawback to this method but we will explain this shortly.
.
Method One:
"Fastest & Easiest Method"
To Get Your 1000 Hits
.
This method is the fastest but it is NOT the most effective! This is a good place to start but Method 3 is the one you will eventually need to use to be the most successful.
First of all get an upgraded premium account with
.
Europeansafelist
This will give you 

one million credits

 a month and allow you to advertise 

3x

 a day to about 

17000

people each time.
From just one ad each day you should get a little over 300 hits a week. So if you send 3 emails a day at different random times you should get about close to a 900 -1000 hits.
These hits are real and real people are clicking on these ads. The cost is $45 a month, which turns into a $1.50 a day to save you hours of work each day. I'm used to spending $40 a week on one craigslist ad, so to me it's totally worth it. Here's the link to join Europeansafelist if you want to use this system.
So Europeansafelist is awesome because it allows you to advertise 3x a day with 17000 each mailing with the premium level. There's no other traffic site that gives quite this advantage. They also give extra benefits plus a solo each month. It makes it possible to do very little work doing 1000 hits a week (team members often choose to do more hits a week as it makes the team grow faster and allows you to get your six faster). Of course this is just helpful but definitely optional.
The drawback with this method is that it only uses one advertising site. The best marketers understand that using multiple sites gives best results. However,

Europeansafelist

is definitely a good quality site and this is a good way to get your 1000 hits and "get your feet wet". Eventually I would definitely encourage using this method along with method 2 - 4.
You can take a test run of EuropeanSafelist by finding it inside your PMS site under: dka
Don't forget after you join to put you affliliate ID in there so that those that join PMS under you will be in your programs. 
Second Method: 
"A little more work"
.
You can get a less expensive upgrade to

EuropeanSafelist 

and still get about 300 hits a week. 
.
This method still leaves you needing 600 hits to get, which you can do by using the upgraded version of Referral Frenzy (which is really awesome and allows for you to send an ad out to about 64 safelists with the two clicks! This is amazing but it also takes a little work to set it up but in the long run saves you an incredible amount of time.)
Now you only need to earn 100-300 hits from free traffic or by upgrading to an another few smaller Safelist. We would suggest FreeAdvertisingForYou as you can get a lot of quality hits here for free. You can find Referral Frenzy and EuropeanSafelists below or keep reading for the next strategy. In fact you can get the scoop on a lot of advertising tips at TEAM ELITE TRAFFIC CLUB (AETC)
You can take a test run of FreeAdvertisingForYou by finding it inside your PMS site under: dka
Don't forget after you join to put you affliliate ID in there so that those that join PMS under you will be in your programs. 
yet the MOST effective"
By the time you are on Step Six You will Need to have a grasp on this method as it is the best for you and for our team.
.
Here is a list of traffic sources which gave Elizabeta the best VERIFIED results.
This is a picture of the sites so you can see them and join them from your team leaders special link:
(These are not clickable. You will need to visit your team leaders "Traffic Sites" Inside of PMS to find these and if you can't find them on their site simply ask them to join so you can get their referral link)
.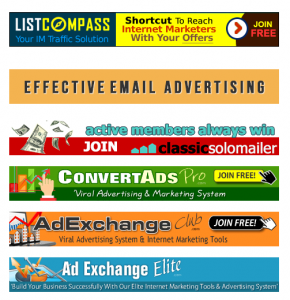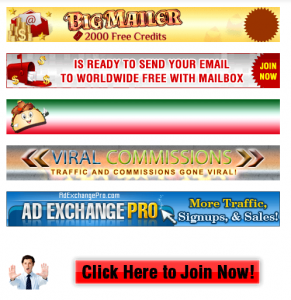 .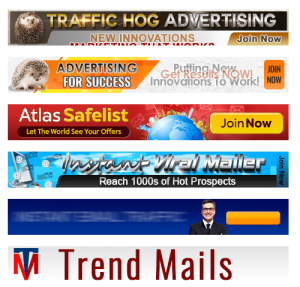 We will now explain a few of these sites: 
.
FreeAdvertisingForYou
.
You can become a pro member after 2-3 days by doing the daily tasks only.
Every Thursday you will get a mail with bonus points
and every solo has usually more than 250 clicks.
The engagement is really great and you will get not only hits but sign ups too.
.
Email Marketing Masters
.
You can learn how to write emails in this mailer.
Also, the engagement is great.
I have more than 70 clicks from every email I send.
.
Online Traffic Ads:
.
If you want you can pay  $7.50 in the OTO1 and become JVS for life.
There is the code on the home page for JV and works
now too and you can become JV for free until they turn it off.
.
EuropeanSafelist
.
.
This will give you
a chance to advertise to about 17000 people
three times a day with the

premium

membership (which you have to actually go to the site to find under upgrades as you will NOT find Premium below.)
.
Compare Memberships at Europeansafelist:
.
.
Membership

Credit Based Mailer

Mail To

Saved Messages

Credits for reading AD

Signup Credits

Monthly Credits

HTML Mailer

Visual HTML Editor

Banner / Text Ads Rot.

Banner imp.

Autoresponder

500 Monthly Leads

Capture page

Referral  $

Referral credits

Cost

Join Now

Free
Every 3 days

free

Up to 5

50

1.500

500

NO

NO

Yes

1 impress. = 2 credits

NO

NO

NO

Yes

Yes

Free

Join Free

Silver

2 times a Day

Free, Silver

Up to 10

75

140,000

 40,000

Yes

Yes

Yes

1 impress. = 1 credit

Yes

NO

Yes

Yes

Yes

3.00/month

Join Silver

Pro

3 Times Day

Free, Silver, Pro

Up to 15

100

140,000

 80,000

Yes

Yes

Yes

1 impress. = 1 credit

Yes

Yes

Yes

Yes

Yes

7.00/month

Join Pro
.
You can get the scoop on a lot more advertising tips at your team leaders special page under "TEAM ELITE TRAFFIC CLUB (AETC)"
You can take a test run of The Elite Traffic Club by finding it inside your PMS site under Training Tab.
Don't forget You Will be able to Change Your links in the TrafficClub if you upgrade to Purchase Prosperity Owner Add-On For $97 One Time.
.
"The Completely Free Method"
..
You can earn credits by clicking others traffic sites ads to earn credits and use the credits for your own advertising. Online business is like every other businesses and needs investment.
.
You can either invest with money
or invest with your time.
.
The Free method can take a lot of time. Albie remembers doing the free method for four or five months and clicking on ads to earn credits for hours each day. It definitely works but does take time. Even now I still click for credits on quite a few sites to increase my advertising reach. 
.
These sites are the best free and paid traffic sources according to our experience: 
.
You can take a test run of these sites by finding it inside your PMS website under: dka
Don't forget after you join to put you affliliate ID in there so that those that join PMS under you will be in your programs. 
.
.
Notes on Traffic:
.
If you want to get MORE than 1000 a week, we encourage you to sign up for the $7 e-book called

 "Secrets of the Big Dogs"

 where you will learn everything about free and paid traffic sources. Don't worry, it's TOTALLY worth it and will help you even more when you become a team leader! 
. Use 'Secrets of the Big Dogs' to gain the knowledge and experience that it takes you to advertise on a larger scale than you had done previously. Even if you don't have a lot of money, it's worth joining so that you can save and build your advertising power over time! 
.
.
You can take a test run of The Secret of the Big Dogs by finding it inside your PMS site under: dka
Don't forget after you join to put you affliliate ID in there so that those that join PMS under you will be in your programs. 
Want to learn some VERY useful and effective Safelist Tactics? Or are you really struggling using Safelists? My suggestion would be to read the ebook by Jerry Iannucci (owner of "Mister Safelist) called "Safelist Marketing Tactics". Believe me, this e-book will open your eyes to Safelist Marketing and become an extra income source for you too! It's free to read. Enjoy!
.
You can take a test run of Safelist Marketing Tactics by finding it inside your PMS site under: dka
Don't forget after you join to put you affliliate ID in there so that those that join PMS under you will be in your programs. 
Next we will be discussing the Pro's and Cons of Safelists via Text Exchanges. This is a big subject so we can only hit on some basic points. Needless to say, there ARE differences and we find that Safelists produce much better results and actual signups. 
Final note: Don't forget the more quality hits from good safelistst that you do, the quicker it will be for you to become a leader.
Sometimes with advertising, you do just a few hits and get new members and sometimes you blast the market with an overload of hits and get hardly any new members. This happens sometimes. The point is to still keep advertising as that's how you win! 
Two Advertising Tips
1) Sometimes people have to see an ad seven times before they feel inspired to sign up, and then sometimes it takes them seeing 5-10 emails before they contact you! So just keep advertising every day on your regular schedule that brings you 1000 hits or more.
.
2) With each successive Safelist upgrade, you get more traffic credits. When you click for credits, you can accumulate even more and you get much higher commissions when someone joins under you. This creates a compounding effect that snowballs your growth.
.
.It's a simple choice to get paid more for your efforts.
.
Part Two
The Difference Between SafeLists & TE's
.
What exactly is the difference between Safelist's and TE's (Traffic Exchanges)? 
.
There is a difference.  And here is a quote from The GDI Team Elite website about it:
.
"...However its results we need to bring in new members, and the cold hard truth is that safelists and mailers are getting results. We, your GDI team elite upline have many years of advertising experience and we all agree that safelists are bringing in more new members that any other FREE method."
.
From GDI Website about Safelists and TE's.
This can be viewed at http://earn4life.ws/advancedtrainingpage/
Disadvantage of TE's: 
.
1. Safelists links are often opened up from an email and even though MOST emails are not read, this still gives a slight advantage that the viewer MAY decide to read it if something catches their attention.
.
2. Even when clicking on links from a Safelist (and NOT opening an email) when you FINISH confirming that you saw the website, the ad page does not disappear like on a typical TE surfing site until you actively click the page off. Not having the page disappear gives you another chance to view the page if there was still something you forgot to view but suddenly have a last minute reason to view it once more. * It is worthy to note that some TE's do allow you to send out mail solo's and these are very effective. 
The three biggest culprits for low converting traffic are:
1. Traffic Coops - They make money by purchasing the lowest quality traffic and then selling it to you at a profit. 
2. Traffic Exchanges - They often convert poorly because too much of the traffic is coming from paid to click or those who are not looking at the pages.
3. Cheap Traffic Sources That Promise Lots of Visitors for Low Cost - You don't get what you don't pay for. Not all high priced traffic converts well. However, most cheap traffic sites convert poorly. So if you see its very cheap be cautious!
.
Almost all beginning marketers (I was not an exception) want to increase their traffic quantity without thinking about its quality. The more HITS you're getting the better chances that it will convert into signups and sales, right?
I love the Gary Halbert definition of hits. "What HITS really stands for is... How Idiots Track Success".
He suggested imagining it like a lot of people seeing your billboard on a highway for a microsecond and about 1 out of every 500,000 has any interest in your ad. Most of them don't have time to read your message anyway. 
Thus, all that money you spent on that expensive billboard... which got you all those "HITS"... won't be much good. Billboard hits are not so good for traffic as they are just good for branding an image or slogan. And TE's are similar in effect. They aren't very good at conversions but they do have some value for branding your image, or squeeze page. 
Have you noticed the same things happen at Traffic Exchanges and Traffic Co-ops?
All the time you spent generating traffic using these sources just get you a lot of uninterested people to visit your link. And that is in the very best case. Often you can get "HITS" from the bots. but no one is really seeing these ads.
One of our coaches Matthew Graves shares that "No matter how good the signup page is, it cannot convert a visitor who is not paying attention.".
Safelist's also have this phenomenon but the

time given to view each site is higher

thus producing a higher conversion.
Look CAREFULLY at the quality of traffic that you are sending to your ad pages. Don't waste your efforts working on traffic sources that are proven to not convert into signups like PTC sites, many TEs and Co-ops.
.
SO MAKE SURE YOU ARE USING GOOD SAFELISTS!
PS: You can see the full article 
Albie wrote on Safelists & TE's inside
Advanced Marketing Secrets

:  
here
.
I hope this guide helps you to get better traffic! 
When you'e done with this, let your team leader know what you learned. Then go out and get your first 1000 hits or begin working with sites that will get you better results!
.
To your success!
Your Personal Team Leader
&
Albie Derbyshire & Elizabeta Kuzevska
Prosperity Marketing System
Team Leaders
.
Marketing Team:
Albie Derbyshire,
Elizabeta kuzevska,
Krishna Narasimhan
John Vance
Diane Mumm
Copy written by Albion Derbyshire and Elizabeta Kuzevska 2020
No authorization to use or copy original material within the Five Crucial Skills without permission.
The only exception is unless material is originally owned by a different author, in which case you will need to contact them.
.
Contact information and address:
.
.
.