Step Sixteen 
.
The Importance of 

psychology of SALES
Before we begin let's look at
.

.
The Book "Influence:
The Psychology of Persuasion"
Thoughts on the book:
.
This book Is an amazing book on the psychology of SALES.
There are Six Principles to this book:
.
1) Reciprocation
2) Consistency
3) Social Proof
4) Liking
5) Authority
6) Scarcity 
.
These Six principles will change your understanding of sales forever. Not only will it educate you about how we subconsciously "fall into buying stuff" but it will also show you how to use these principles in an ethical way (instead of using them against people) to create a "win/win" situation.
.
These principles are dynamic and have been used by salesmen for a long time. Even though once you learn the principles, they are easy to understand and implement, they are also more in depth and complicated to explain that we have time to explain. I understand that it would have been easier to just try and explain them, but you will get 10x more from reading the book. So that's what we want you to do. First, get started now getting a copy of the book or an audible version you can listen when you're in the car. Then continue with Step Sixteen. You will be very happy you read the book and learned these life-changing principles. They are crucial to your continued success online.
.
Part One:
let's talk about 4 Online Funnels that will make you money:
1) GDI & The Sixteen Steps
2) Your GDI Website
3) AE Traffic Site
Three Funnels & How They Will Change
Everything for You
1)

GDI Team Elite & Sixteen Steps 
3) A Traffic Funnel 
HOW THESE FUNNELS WORK 
1)
GDI Team Elite and the Sixteen Steps 
is the first and should be your primary funnel. To find out more about this simply begin the Steps here.
PASSWORD IS AE67.
Eventually, your new team will be coming into your website from your team email each week and seeing what you have that's new! 
In addition to sharing helpful things about GDI Team Elite and marketing tips, you can add advertising to your page.
I personally use my main programs banners that you will also find in the Sixteen Steps such as TrafficWave, Buildabizonline etc, but I also use my website to promote helpful traffic and their links and my team store with 10,000 products from Clickbank. 
Clickbank has a great program called CBProAds which allows you to put all manner of advertising links on your site (you've probably seen mine) and more. They also allow you to have prebuilt websites in many popular niches such as health and wellness, online business, fitness, dating etc. These things all should be helpful things to honestly help your team. You will also find yourself making sales when you truly help others. 
You can find the affiliate program for CBProAds. It's a free program and you can see if

here

. 
3) Your Traffic Funnel
I realized from one of my team members Dustin, owner of ProTrafficBuilder, how important it is to have a grasp on referring traffic sites to others. Traffic is essentially the main ingredient of building a business online and you should have a part in it. 
Diane Mumm from Mountain High Mailer also came on our team a little while ago and has been a great help understanding this better too. 
Elizabeta and I have been working on an upgrade to AE Traffic Club. Elizabeta has already been advertising the site and has had great success with it. 
We are upgrading the sites look and even though I have finished the first version, I am still working on the upgrade. Here is a pic of what the new site looks like: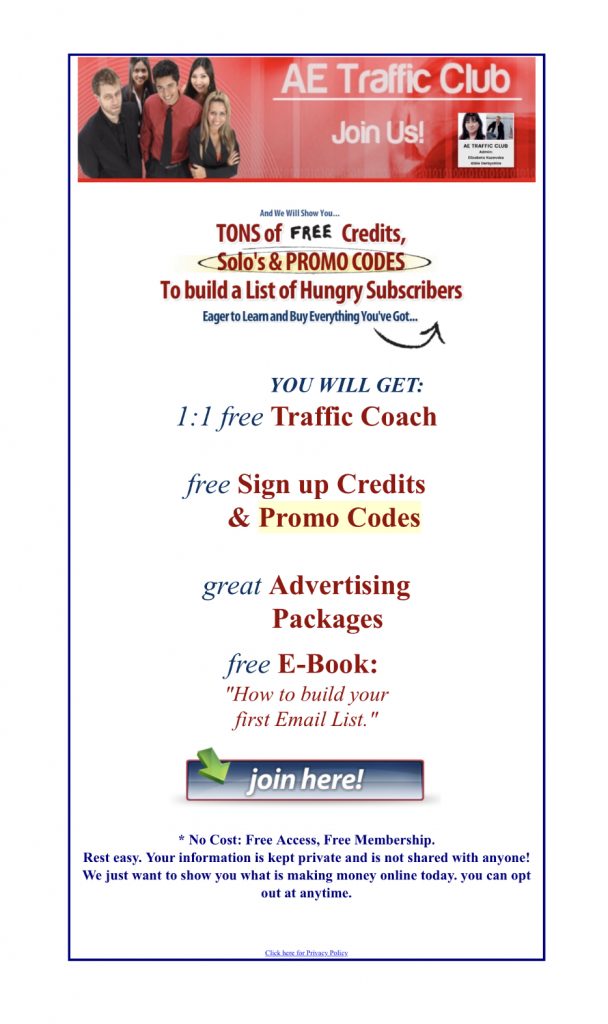 .
You can also see the original first version without subscribing
here.
With advertising Traffic, it is encouraged to be hitting at least a 1000 hits a week for GDI Team Elite before you advertise other programs 
I hope this has given you some good ideas on building your GDI Team Elite business and eventually increasing your influence and reach with all your funnels.
.
To your success!
.
Your Personal Team Leader
&
~Albie Derbyshire & Elizabeta Kuzevska
GDI Team Elite Leaders
.
Marketing Team:
Albie Derbyshire,
Elizabeta kuzevska,
Krishna Narasimhan
John Vance
Diane Mumm
.
  

Join us and we will show you 
TONS Free Credits Solo's &

 Promo Codes
To Build A List Of 

Hungry Subscribers And Customers Eager To Learn & Buy

 Everything You've Got...
You will get 
Free 1:1 Traffic Coach

A lot of  Free Sign up's Credits  & Promo Codes
Great Advertising Packages
Free Book - How to Build Your First Email List