You have the best mailer in your hands. Use AE Mailer to build your list, earn a commission, promote your ads and earn additional $$$ from referral contest
How do I build my list?
See the video in the Profile page how to connect your autoresponder with AE Mailer. When you will do it your form will be on your main affiliate link. In this case people will join YOUR list first and after that AE Mailer. If your form doesn't exist on your main referral link you made the mistake. Contact your autoresponder support how to get Javascript Snipet and add it in the autoresponder area in your profile
How do I earn commissions? 
See the video in the home page and set your payment methods. Send new members to AE Mailer using your affiliate link.
You earn commissions if someone you have referred purchases an Upgrade.
Members pay other members directly, unless you earn a commission from a payment method you cannot accept.
In this case, you will earn 75% of the sale and we will pay you out via one of the methods you can get paid within 1 week or less.
Where is my affiliate link

?
It is found in the Affiliate Tools section along with banners to use, email copy, etc.
How/when do I get paid?
Payments will be paid to you directly by members you refer
Where do I find out how many referrals I have?
Click on the Affiliate Tools button and scroll down to the bottom.
Where do I setup ads?
To set up banners & text ads you would go to menu option: Setup Ads
You should only post banners for other sites you wish to promote, NOT AE Mailer's banners
NOTE: Banners must be 468x60 or they will be returned unapproved.

The more ads you setup the better for you!  
How do the banner/text ads work?
Banners and text ads are rotated throughout our site and will show at the top of the credit emails that are clicked on.
Clicks will come from members clicking on ads to earn credits and for a chance to win prizes.



I paid for an upgraded membership. Why does it still say I am a free member?
Please allow your sponsor up to 24hrs to upgrade you, if you do not hear from your sponsor contact us with proof (screenshot) and you will be upgraded as soon as we verify this is a valid claim.
Please allow up to 48 hours, after submitting your proof of payment.
Can I open more than one account?
One account per member.
How do I redeem a promo code? Where do I get a promo code? Code doesn't work?
At the top of the Setup Ads section is a promo code redemption box.
If it is a valid code, your advertising will be added immediately upon redemption.
If the code is invalid, then check to be sure you have entered the code correctly.
If you are sure this is a promo code to be used at AE Mailer and it says it is invalid, contact support for help.
* Keep in mind, some codes expire after a certain amount of redemptions. You might be too late!
I have the habit of reading something new online every day. Today, my choice was Just Tracking Your Metrics Isn't Enough By Michael Kwan
I agree with the author that tracking is the most important thing for an online business. You have to track everything to see what is working and what is not working. The problem is you that you have to learn how to setup your tracking right.
The next part of the email is very important.
Peter Drucker, the famous management guru, said "measuring your stats is good. But you've also got to manage them. Keeping tabs on all those numbers isn't good enough. You need to learn from what those numbers are trying to tell you. Knowing them you can make better decisions now and into the future."
I spent months with my mentor, Matthew Graves, learning how to set up and manage my tracking. He taught me how to analyze tracking. Which tracker to use? Where to put my attention on track? How to set up tracking codes in my tracker? Where to set the tracking codes on my lead capture and thank you pages? Which time periods to track? When do we need to analyze if something is not working and how? These kinds of questions are not explained in any course or book.
The fundamentals I learned are:
You must use a good tracking program which shows you the right analytics. I use Clixtrax.
You must have separate thank you page for every campaign so they can have unique tracking codes. You must use your squeeze page builder to create them.
You must learn how to put the tracking codes on the squeeze pages and thank you pages.
If you need help with these steps, please reply and let me help you.
If you aren't tracking your results, then you do not have the information you need to improve your conversions and get more signups and sales.
Once you start collecting the statistics, then you need to keep track of your conversions in a spreadsheet so you know if they are getting better or worse from one week to the next.
The process of trying different pages and evaluating which one's are the best converting is called Split Testing or A/B Testing. If you think you can improve on your conversion rate, then you can try sending some of your traffic to a separate page and track the conversion rate separately. If the new page converts better than the old page, then it becomes the new primary page.
This type of A/B or split testing is essential to make sure that you are making the best use of the traffic you are generating.
You need to compare how your promotion converted from one week to the next. Is the conversion rate getting better, worse, or staying the same?
Successful marketers see their conversions as a continuous experiment. They are constantly trying new ideas to make things better and get more results from the same traffic. The more you learn from testing, the better marketer you become, and that is the true Key to Success.
To succeed You must use a good tracking program which shows you the right analytics. I use Clixtrax and I never regret.
  

Join us and we will show you 
TONS Free Credits Solo's &

 Promo Codes
To Build A List Of 

Hungry Subscribers And Customers Eager To Learn & Buy

 Everything You've Got...
You will get 
Free 1:1 Traffic Coach

A lot of  Free Sign up's Credits  & Promo Codes
Great Advertising Packages
Free Book - How to Build Your First Email List
Would you like to know which Affiliate Marketing
Products really work?
Affiliate Marketing is one of the easiest to manage, but most
competitive online money making ventures currently around.
Here are the reviews of the top products that really work. These recommendations can definitely help get you there fast!
Click the link below and choose the best one according to you
WOULD YOU LIKE TO KNOW WHICH "MAKE MONEY PROGRAMS" REALLY WORK?
Well...there are a number of online money making opportunities to explore.
Explore sorted by the top rated and best online money making opportunities, according to the customers
Click the link below and choose the best one according to you
Are you frustrated by not making sales or signups in your online business?
I understand because it is harder and harder to convince someone to put in their credit card number, or even their email address, these days.
However, there are only 6 reasons why a prospect does not buy from you or sign up for your business.  Do you know what they are?
More importantly, do you know the 6 beliefs that you can teach your prospects that completely eliminate all 6 objections?
Click to get access to a free video workshop that will help you discover the 6 Reasons People Don't Buy and How to Eliminate Them.
Did you know that deep inside every human on the planet is a secret key that you can use to get people to buy?
Most marketers ignore this simple way to increase their sales and signups.
Those who know about this secret and implement it in their marketing campaigns can multiply their sales many times over.
Click to get access to a special video that will help you discover the power of the secret key and how to use it to get more signups and sales.
By Albie Derbyshire GDI Team Leader
You might be asking why is building your own capture or splash pages so important?
.
The reason is that people flock to creativity.
.,
If you are a leader and just promoting the same old stuff over and over again, people get bored.
.
I'm not saying that the old faithful GDI TE pages are no good, only that you need to "spice" things up a bit and capture peoples attention from time to time.
.
You also need to create a reason for people to remember your picture when they see it on your page! 
Here are a couple sample GDI TE capture pages I made on BuildabizOnline: 
1)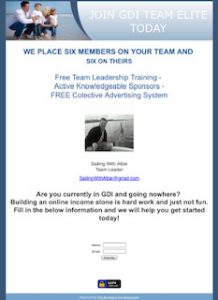 .
2)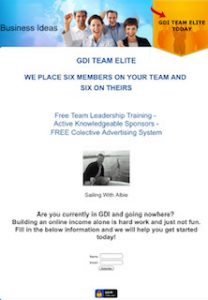 To begin making your capture page in BuildabizOnline (BABO), here are the steps to follow: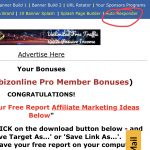 To start your capture page first go to "Autoresponder" tab in BABO.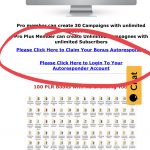 Then send Ian a message to begin your autoresponder. It usually takes a day or so for Ian to get it going for you.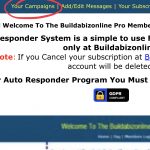 Then begin your campaign and give it a name like "GDI TE1" for instance. Click Save.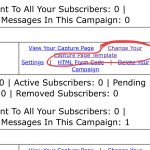 Then go click on "Your Campaign" again, click it open and then go to "Change your Capture Page Template".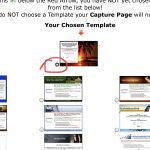 Then choose a template. You can use the one I picked just to give you a good first start template. Press save at the bottom.
.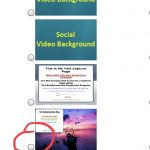 Here's another possible good one to use. There are about six or seven that will work well with GDI Team Elite. Many of the others have wording or graphics that don't fit for our pages.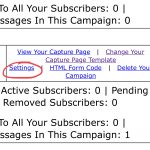 Then go back to "Your Campaign" and choose "Settings"
.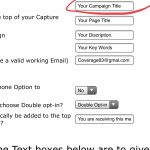 Put your site name in on the top line. Don't worry about the other lines. Then scroll down to the HTML box. See below: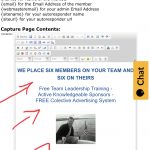 Then copy and paste these words into the text:
"     We Place Six Members on Your Team and Six on Theirs
Free Team Leadership Training
Active Knowledgable Sponsors
FREE Collective Advertising System
Are you currently in GDI and going nowhere?
Building an online income alone is hard work and not just not fun.
Fill in the below information and we will help you get started today! "
Highlight the headline and make it size 36
The next three sentences I highlight and make about size 28
The next three sentences I highlight and make about size 24.
Example pic: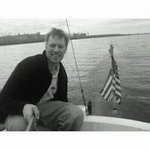 Albie GDI Team Leader
(Put Your Name, GDI Team Elite or leader if you are one)
To get YOUR personal picture on capture BABO Page, I had to go to my personal ws. GDI website, go to "Add Media", choose a picture and upload it from my file on my computer, then press enter. Then click on the pic and center it. Then press "Text" at the top left of the page  and copy all of HTML code and then go to BABO at the page we are working at in the editor, press "Source" and paste it onto the page. Then press "Source" again and this time you will see the picture. If you need help with this just ask your team leader.
IMPORTANT NOTE:
Make sure you do not take out, delete or change the code that creates the name and email boxes. You will see a warning not to touch that area. Once you are done with this you have made your page. You may now go press save at the bottom of page. Then go to "Your Campaign" and then "See Your Capture Page".
NOTE: The BABO site remembers "cookies" very easily, so
IF YOU MAKE ANY MORE CHANGES AND WANT TO VIEW YOUR WEBSITE AND SEE WHAT THE CHANGES LOOK LIKE – YOU WILL HAVE TO EITHER ERASE "COOKIES" OR OPEN BABO IN A DIFFERENT BROWSER TO SEE THE NEW CHANGES!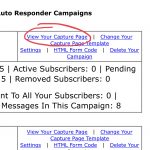 Go to "See Your Capture Page." See if you like it but remember the note above about 'cookies".

N ow we will begin putting your autoresponder messages together. Put the title of your message first. Then click the html or text button under this. If you use html, I will show you how to do this next. With text, you only need to start typing to enter what you want to say.

Put 0 as the first message that will go out on the very first day when someone subscribes. On the next message make that 1 and then the next message 2 etc…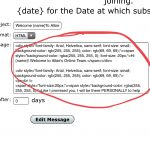 To create html message, simply go to your HTML editor on the front page of BABO (not in the Autoresponder area). You will find the tab at the top of the main BABO page. Then type your message in there. Highlight the areas you want bold and press "B" for bold. Then highlight the areas you want a different color and press the tab that adds color to the text.
(Be careful NOT to use the tab that adds highlighted color to the background too – unless you really want it).
Then press the "Source" button and copy all of HTML code. Paste this into your message area in the autoresponder (make sure the html setting has been chosen). Then press save at the bottom of the page. Go back inside "Add/Edit Messages" and scroll down. You wlll see how the message now looks. It should look real nice! You can also edit the message again if you like by pressing "edit" to the right of the message. Make sure if you need to edit the message itself to copy the message in HTML form and paste it back in the BABO HTML editor and press "Source" and you will see message in normal format again. Then repeat above steps.
I hope you like your page! If you want the whold series of GDI Team Elite campaign autoresponder letters, I have them already created in HTML form and you only need to paste them in! Ask me for more details!
Great job on getting your first capture page made and autoresponder message done! 
PS: All capture pages for TrafficWave and the Power Lead Systemare much easier to create and the autoresponder series only needs a code to copy all the letters and assign them to your pages! You get all this for free when joining your team leaders link in TW.
It still helps to learn how to make pages with BABO as this is a skill you will use often as a team leader!
~Albie
My name is Elizabeta, and I'll be your guide...
I just wanted to  take a moment to personally welcome you
to Make Money With GDI Team Elite!
Welcome!
Everything you want in life is within
your grasp...it's all in how you think
about it...
If you want to make money online, be your own boss, set your own hours,
and be in charge of your own life and destiny...
You can do it!
So, why haven't you already?
It's OK, it's not your fault...
So many so-called online "gurus" and
other self-appointed "experts" have
tried to cram their get-rich-quick
products down your throat...
It's not surprising that you've become
a bit gun-shy at this point...
That's too bad, because it really is
possible to make all your dreams come true online...
Whether you want to have more time to spend with your kids, play golf, read,
or take a vacation to that favorite dream spot...
Or just want to have more free time, or a little extra money each month to pay off those
credit card bills...
The Number One thing that holds back the 95% of the online marketers that don't make it?
They don't TAKE ACTION...
=====================
All You Have to Do...
Is DO Something!
=====================
That's where it all starts, and
everything else follows from that...
Over 95% of the people who say they
want to be online marketers never do
anything about it...
So ALL you have to do to be in the top 5% or higher, is to actually take action...
It's so simple, it's ridiculous...
All you have to do is visit the link below:
==> http://website.ws/kvmlm2/index.dhtml?sponsor=ekuzevska5&template=15
But you have to do it now, while you're thinking about it, or you'll just slip back into the ranks of the slumbering herd who aren't going anywhere...
So just do it:
==> http://website.ws/kvmlm2/index.dhtml?sponsor=ekuzevska5&template=15
People need a plan to follow. It doesn't matter how great an opportunity is... If there is no action plan, there's no success.
If you want people to follow you, create success and share your plan with others. If you want success but don't know how to do it, find someone you can trust who has a plan — and follow it!
If you need assistance, you can email me on elimarketingtips@gmail.com
I will only share with you the very best knowledge, tools, and
opportunities that I believe will help you succeed faster.
I'll only tell you about something that I've tried
myself and is working for me. Fair enough?
Consider me a partner in this business... I'll try everything
that makes sense to me to see if it works...
When I get good results with it or learn something valuable,
I'll share it with you. If I don't, I won't.
The fastest way to succeed in anything is to find people who've done
what you want to do and learn their secrets... It's called modeling.
Success in home business or making money online is no different.
Just find people who are succeeding,
study their actions, and do what they do.
That can be easier said than done - especially when most people keep
their secrets closely guarded.
I'll be in touch.

Sincerely,

Elizabeta